Skip to Content
Tile Roof Cleaning in Flagler, Volusia & Seminole Counties
Do you love the look of a shiny roof? Are you concerned that black streaks, moss, grime buildup, and more are reducing your roof's quality and lifespan? Trust the team at WKL Roofing to provide your home or business with thorough shingle and tile roof cleanings in Flagler, Volusia & Seminole counties. Our regular cleanings leave your roof looking spotless each time.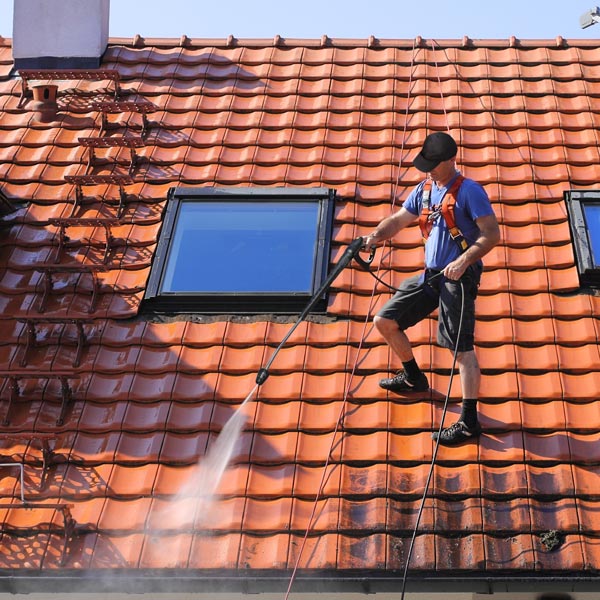 Why Should I Clean My Roof?
We recommend getting your roof cleaned to make it more aesthetically pleasing and maintain its durability. Routine cleaning is often preferred and requested by area homeowners. A majority of homeowners' associations and some municipalities require their residents to receive cleaning for their roofs. Unfortunately, traditional cleaning methods like chlorine-based and high-pressure machines can cause harm and damage to your roof, even if they are relatively safe for use. We apply only what is needed to clean your roof, nothing more and nothing less. Our goal is to maintain your roof's safety and lifespan before, during, and after your cleaning.
Five Signs That My Roof Needs Cleaned
Here are the most common reasons why home and business owners should receive regular tile, shingle, and general cleanings for their roof:
Black Streaks
Many homeowners mistake black streaks for typical dirt, but black streaks are actually a form of algae that consumes shingles. It won't stop eating until it is eliminated.
Leaf Buildup
Leaves falling onto roofs from overarching trees is normal, but excessive leaf accumulation can block your gutters, leading to leaking, rotting, and mold proliferation.
Dirt & Grime
As your home's outdoor protector, it's natural for dirt to build up on your roof over time. Our services remove dirt and grime and restore your roof's beauty.
Moss Growth
Don't underestimate seemingly minor moss growth. Moss plants firm roots into cracks, which runs the risk of causing water leaks. Eliminate decay and deterioration caused by moss with proper cleaning.
Excessive Shade
Tree coverage and shade can offer many benefits for your home but can also dirty up your roof. Homes with heavy shade require more scheduled cleanings than homes with less.
Your Choice for a Spotless Roof
Roof cleanings do more than make your roof look pretty. Routine cleanings help reduce and eliminate damage and risks associated with dirt, grime, and other detrimental materials. Whether your community requires cleaning or you have a personal desire to keep your roof in optimal condition, our team can deliver. Maintaining your roof's aesthetics and durability is our business.
Schedule an Inspection Today