Skip to Content
Gutter Services in Flagler, Volusia & Seminole Counties
WKL Roofing is a leading provider of gutter services for Flagler, Volusia & Seminole county homes and businesses. For over 35 years, our family-owned and operated company has improved drainage and protected properties from leaks with seamless gutter installations. A gutter system is a crucial component of any property and an invaluable investment that we take very seriously. Our team is devoted to you from beginning to end.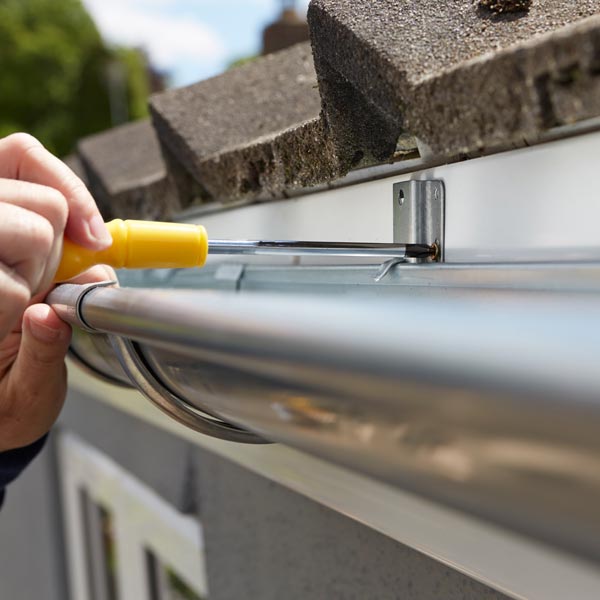 Types of Gutter Products We Install
Whether you need aluminum, copper, or steel gutters for your home or business, our team is equipped and ready to install a seamless gutter system that keeps your property properly drained and functional. Our technicians possess years of experience installing:
Covers, Guards, and Grates: Gutter guards keep debris from clogging up your gutters while enabling rainwater to travel through and adequately drain.
Soffit: The soffit is the underside horizontal component that protects and maintains the gutter's support system. Available in wood, vinyl, or aluminum.
Fascia: The facia gutter features a sleek, elegant design that homeowners love while providing proper protection and ventilation for your roof.
New Gutter Installation: What Should I Choose?
Has your current gutter system reached the end of its lifespan? Do you want a new gutter experience? We will work with you to determine what you want for your next installation and help get you there. Our team is knowledgeable about the different types of gutters and their distinct benefits.
Aluminum
Aluminum gutters are the most cost-effective and popular form of gutter, frequently seen on both residential and commercial properties. They are exceptionally low maintenance, requiring only routine cleaning to function.
Copper
Providing style and elegance for homes and businesses. Copper gutters are among the most expensive but are also the most aesthetically pleasing and built to last a lifetime.
Steel
Galvanized steel gutters are usually seen along commercial properties, industrial properties, and large buildings that need heavy-duty drainage. Exceptionally durable, steel gutters are virtually maintenance-free, and they last forever.
Why Quality Gutters Are Crucial
A functioning gutter system is essential to your home and family's health, safety, and happiness. Great gutters will last years and:
Properly drain and direct rainwater away from your property.
Eliminate the risk of mold, mildew, rotting, and pest invasions.
Increase your home's market value and enhance curb appeal.
Keep your landscaping and lawn adequately protected from flooding.
Make your home safer by keeping walkways and entryways clean and dry.
What to Expect on Gutter Installation Day
After we inspect and help you find the right gutter or gutter product, it's time for the installation. We will schedule a precise installation date, and we promise to arrive within a three-hour period. We will call you a half hour before arrival to remind you. If possible, we'd love you to be there during the installation so you can see the work from beginning to end. After installing, our team will thoroughly clean up the job site and remove any leftover debris. We will assess our work to ensure that your gutters have been installed and completed to your expectations.
Schedule an Inspection Today